2016 October
"The Swanage Blues Festival brings together an amazing collection of Blues Musicians, Fans and Friends for a weekend of Jams, Open Mics and Headline Performances that will have you coming back time after time"
The 26th Swanage Blues Festival is on 6, 7, 8, 9 October 2016
HOW TO BUY WRISTBANDS AND PROGRAMMES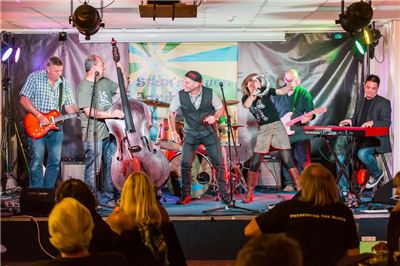 Caption: "And this is a Jam Session!" - Photo by Paul Dubbleman.

3 Buck Shirt, Anita Jardine, Backwater Roll Blues Band, Blue Touch, Buskers, Catfish, Chicago 9, Dan Sowerby, Darrington, Budden & Hokum, Fabulous Fezheads, Grand Finale, Great West Groove, Hugh Budden, Jam Sessions with Robin Bibi Band, John McClean & The Clan, LedFree, Lewis Cohen, Northsyde, Open Mic Sessions hosted by Anita Jardine, Pete Harris and..., Ray Drury, Red Butler, Red River Hogs, Riverside Blues Band, Robert Hokum, Robin Bibi Band, Stan's Blues Jamboree, Steve Darrington, Swanage Skiffle Kings, Teed Up, The Baroness and The Bear, The Blues Duo - Tommy Allen & Johnny Hewitt, The Blues Issue, The Elevators, The Jawbreakers, The Milk Men, The Mustangs, The RedCrow, The Riotous Brothers, The Tom Seals Band, The Wang Dang Doodle, Tommy Allen's Trafficker, Voodoo Sheiks, and Zoe Schwarz Blue Commotion.
Poster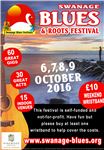 Programmes - see Wristbands
Schedule
THURSDAY 6 OCTOBER 2016
2030
The Legion
Darrington, Budden and Hokum
FRIDAY 7 OCTOBER 2016
1400
Red Lion
Open Mic with Anita Jardine
1700
East Bar
Robin Bibi Band
1800
Sea Breeze
Lewis Cohen
1800
Tawny's
Dan Sowerby
2000
Sw Bay View
Tom Seals Band
2015
Sea Breeze
Lewis Cohen
2015
Tawny's
Dan Sowerby
2030
Grand Hotel
Zoe Schwarz Blue Commotion
2100
Crow's Nest
Teed Up
2100
Herston C&C
The Riotous Brothers
2100
Red Lion
Pete Harris & Jon Vaughan
2100
The Legion
Red Butler
2100
White Swan
Red River Hogs
2145
Anchor
Riverside Blues Band
2145
White Horse
The Milk Men
2200
Ship
Blues Issue
SATURDAY 8 OCTOBER 2016
1200
YHA
The Baroness and The Bear
1230
East Bar
Pete Harris R&B All Stars
1230
Sw Bay View
Robin Bibi Jam Session
1300
The Legion
Stan's Blues Jamboree
1300
YHA
John McClean & The Clan
1400
Herston C&C
Fabulous Fezheads
1400
Red Lion
Open Mic with Anita Jardine
1500
Anchor
Chicago 9
1500
Grand Hotel
Lewis Cohen (3pm), The Baroness & The Bear (4pm), Dan Sowerby (5pm)
1500
White Swan
3 Buck Shirt
1545
Ship
The Riotous Brothers
1700
Sw Bay View
The Elevators
1800
Sea Breeze
The Blues Duo
1800
Tawny's
Lewis Cohen
1900
East Bar
Blue Touch
2015
Sea Breeze
The Blues Duo
2015
Tawny's
Lewis Cohen
2030
Grand Hotel
Great West Groove and guests in concert
2100
Crow's Nest
Wang Dang Doodle
2100
Herston C&C
The RedCrow
2100
Red Lion
Fabulous Fezheads
2100
Sw Bay View
Red Butler
2100
The Legion
Robin Bibi Band
2100
White Swan
Blues Issue
2145
Anchor
The Jawbreakers
2145
White Horse
The Mustangs
2230
Ship
Backwater Roll Blues Band
SUNDAY 9 OCTOBER 2016
1300
Red Lion
Open Mic with Anita Jardine
1400
East Bar
Catfish
1500
Anchor
Voodoo Sheiks
1500
Black Swan
Dan Sowerby
1500
Grand Hotel
Swanage Skiffle Kings
1500
The Legion
Robin Bibi Jam Session
1600
Crow's Nest
Riverside Blues Band
1600
Ship
The Jawbreakers
1600
White Swan
The Blues Duo
1800
White Horse
Northsyde
2000
Red Lion
Pete Harris & Jon Vaughan
2030
Grand Hotel
Grand Finale – Spirit of '62 (Great West Groove go Electric with Guests including Dan Sowerby and Jules Fothergill)
2100
The Legion
Trafficker
2200
Anchor
The RedCrow
2200
Ship
LedFree
Venues
Anchor Inn, Black Swan, Crow's Nest, East Bar, Grand Hotel, Herston Caravan & Camp Site, The Legion, Red Lion, Sea Breeze, Ship, Swanage Bay View Holiday Park, Swanage Railway Station, Swanage YHA, Tawny's, White Horse, and the White Swan.
What's On in Swanage & Purbeck