2014 October
THE OCTOBER 2014 SWANAGE BLUES FESTIVAL
POSTER, ARTISTS, COMMENTS, SCHEDULE and VENUES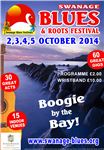 Assorted Buskers, Back Porch, Blue Touch, C Sharp Blues, Fabulous Fezheads, Festival Finale, Hugh Budden, Jam Sessions with Robin Bibi Band, Jason Manners & 3 Buck Shirt, Johnny Sharp, Keith Thompson Band, Kevin Brown Trio, LedFree, Lewis Cohen, Motel 6, Northsyde, Open Mic Sessions with Johnny Sharp and Martin Froud, Paint It Blue, Pete Christie, Pete Harris R & B Allstars, Ray Drury, Riverside Blues Band, Robert Hokum, Robin Bibi Band, Saiichi Sugiyama Band, Stan's Blues Jamboree, Steve Brookes, Steve Darrington, The Blues Duo - Tommy Allen & Johnny Hewitt, The Blues Issue, The Blues Machine, The Jawbreakers, The Milk Men, The Mustangs, The RedCrow, The Riotous Brothers, Voodoo Sheiks, Will Killeen, Zoe Schwarz Blue Commotion
COMMENTS (click here for SCHEDULE and VENUES)
PF said:
Really enjoyed the Bluesfest weekend, it was my first one and I plan to make it a regular from now on. Favourite bands were:- The Robin Bibi Band (Fri pm/Bar One); The Riotous Brothers (Sat pm/The Ship); The Jawbreakers (Sun pm/The Ship). I managed to catch a few others in parts whilst 'strolling' and liked the sound of Back Porch and The Kevin Brown Band. I wanted to see The Fabulous Fezheads but sadly it didn't fit in with my schedule, so maybe next year…?
Really like The White Swan and particularly The Ship as venues. Stayed at The Limes, which was great. Met loadsa nice people and hope to meet up with some of them again next time ...?
Congrats to you Steve and the other organisers of the event, well done to all involved, please keep it going ....... !!
[Steve says: I'm glad you enjoyed it. I would thank all the other organisers, but there's only me. I consult with the venues, book the bands, maintain the festival website, handle advertising, marketing, publicity and all the enquiries, design the festival programme and adverts, invoice, do credit control and purchase ledger too. Mind you, I do pass the books onto the accountant, so I'll thank him!]
GS said:
Just got back from the first gig of this years Swanage Blues Festival A really good evening with Steve Darrington Robert Hokum and Hugh Budden, That gig alone was worth the £10 for a wrist band. 60ish more gigs at 15ish venues, there is something for everyone. Go on treat yourself - all that great music for a tenner over 3 days
EG said:
All the gigs are different but everyone you talk to says we have been to see this or that band and they were great... depends on your taste but all good and there is always another one somewhere else. The jams n open mikes are pretty amazing too. Only complaint is ovrrcrowding in some places. Often room further in but people will block the doorways n throughways....
GS said:
Brilliant gig last night watching The Pete Harris R&B All Stars at the Crows Nest in Swanage as part of the Swanage Blues Festival. Couldn't stay till the end, had to catch the ferry back to Bournemouth but the place was rocking. They have got a couple more gigs at the festival. Check them out they are a band really worth seeing.
You can see them twice more along with loads of other brilliant bands. All for a tenner, you would be silly not to! Working today so won't get to Swanage till this evening but looking forward to seeing Saiichi Sugiyama Band at the Grand Hotel
JM said:
So here you go Steve Darrington, even Charlie at the Crows Nest Swanage bought a wrist band! Great weekend of Blues in Swanage!! Well worth coming back from Los Angeles for.
GS said:
Just seen Saiichi Sugiyama Band at the Grand Hotel. Yet another fantastic gig, terrific guitar, vocals, bass and drums and an excellent guest harmonica player Hugh Budden.
RS said:
Jason Manners 3 Buck Shirt, last night at Old Harry's Bar in Studland was truly exceptional. The soul and feeling of the playing ignited the venue and looking around the room, everyone had a smile on their face.
MH said:
Kevin Brown....Brilliant!!
M & J said:
My sister and I have just experienced your fabulous festival for the first time. The musicians and their music have been breath taking. Much foot tapping and some irresistible dancing. We shed a few tears too and that's true Blues!
The real star is you, Steve. Many of us have had an input in planning community events. . . Fetes, fairs, horses, courses, motor vehicle displays, multiple catering needs and the inevitable necessary good deeds. But your organising skills are the very best! We had a fantastic weekend. The fun and camaraderie abounded and at all times we were welcomed and entertained to the hilt.
Thank you so much. See you next year.
CJ said:
Favourite bands were the Robin Bibi Band and the Keith Thompson Band (with Ken from the Groundhogs on drums). I also enjoyed the performances of lots of 'un booked' musicians who played at the jams and open mics including John McClean and friends. I played at the jams and open mic myself and think these are a must-have part of the festival.
Favourite venues – Red Lion garden for the open mic, and the Legion was good for the jam sessions etc, also liked East Bar, Bar One, and the White Horse. Had some nice food and good service at the Old Brick Pizza. We stayed at the Pines which despite being a bit of a walk from some of the gigs was lovely with great views of the sea.
KH said:
Highlights for me were Northsyde, brilliant band though some of the purists may not like them. Mustangs turned in another great performance. Really enjoyed Peter Harris with Jeradine Hume at the Red Lion and as part of the grand finale with Hugh Budden and Ray Drury. Special mention for the work Hugh Budden puts in and some great harmonica playing while guesting with the bands up at the Grand. Would be nice to have the odd newcomer to liven things up but always a good mix of bands, as for venues was great to see the sun go down while seeing the artists in the Mowlem. Also like the Ship and the White Horse. Only downside was a certain superstar artist who was more interested in having a leisurely cigarette despite being an hour late. Can recommend the Limes Hotel, nice rooms and great breakfast run by really nice people who also went to the bluesfest.
BB said:
Once again, we enjoyed some great Blues bands, and all the Blues aficionados were lovely people. Great music, great crowds, and ridiculously low price - what more could I ask for, on my doorstep! Thank you, once again, Steve Darrington.
WR said:
Back from another Swanage Blues Festival and so impressed by the great talent from so many bands.
The Pete Harris R&B All Stars never cease to entertain. All their numbers are great, and every band member adds so much. Pete Harris (vocals, guitar) has been active on the South Coast Blues scene for over 30 years and just seems to get better and better. My favourite rendition of his is when he performs "The Dark End of the Street" accompanied by Ray Drury on keyboards, and I am not alone in loving this number - it always gets an enormous applause from the crowd.
The band features the rock-solid rhythm section of Bob Manley (bass) and Steve Groves (drums) and keyboard wizard Ray Drury and Paul Tasker on Sax.The exciting new Blues chanteuse Jeradine Philippa Hume adds glamour and an amazing voice to the band. Together they produce an irresistible blend of swing, funk and down-home Blues. There is always lots of interest with this band as they add new numbers to their repertoire, and the super outfits that Jeradine wears always get admiring looks! They played at The Crows Nest - a great venue with delicious food and lovely friendly staff (what more can anyone want ?) Also performing at East Bar - another great venue, and of course in the finale at The Grand Hotel - great venue too.
We also saw Saiichi Sugiyama band... really great, with superb guitar playing from Saiichi. He plays a Gibson Les Paul guitar and his fluid and conversational guitar style does have a resemblance to Eric Clapton, whereas his singing style is of his own. Rietta Austin has an incredibly powerful and soulful voice, but has the control to bring it down to a beautiful, melodic whisper as well. She has a truly amazing range of vocals and is a great addition to the band.
The Jawbreakers is another great band worth a big mention. They are a superb band.. I love all their numbers. We saw them at The Ship - another good venue. Deano Robinson on drums, Philip Brannnan on rhythm guitar, Ed Brayshaw on lead guitar and vocals, Chris Riley on upright bass and Max Hunt on piano and organ, an unmissable act and you could see how they were enjoying themselves too, as were the crowd, and those dancing!
There were so many great acts I can not mention them all, but must just add that Stans Blues Jamboree was really good at Tbe Legion - a very good venue with plenty of seats and a good stage area, plus tasty food at very reasonable prices. It was interesting to see some new bands to us, one of the best being The Villanovas - a great young band.
Fantastic finale to the Swanage Blues festival. Thanks to Steve Darrington for his great organising skills, Hugh Budden for making everything run so smoothly and above all the amazing talent of all the bands The line-up at the finale was superb with Hugh joining in with his superb harmonica playing and singing, Paul Tasker on Sax, Steve Faithfull on drums, Steve Brookes on guitar and vocals, Pete Harris on guitar and vocals.snd the amazing keyboard skills of Ray Drury.
We stayed at the Swanage Haven, a superb five star B & B situated close to The Crows Nest and The Grand Hotel. It was our third stay there, the place is fantastic, award winning breakfasts, comfy beds, free parking, free use of hot tub in the garden. The breakfast is the best ever, including home made bread and pastries and lovely selection of fresh fruit.
NW said:
Such an amazing event and only the greatest respect and thanks to Steve Darrington - Old friends New friends and amazing music - THANKS STEVE
DS said:
I really enjoyed this year's festival, particularly the final session at the Grand. For me the top performer by a mile was Jeradine Hume, really well supported by Pete Harris and as a friendly laid back afternoon the open mic at the Red Lion was good fun.
DB said:
Congratulations once again Steve, - a great weekend. Favourite band l saw, probably Blue Touch. Favourite venue: difficult to beat the outdoor atmosphere of Red Lion on a sunny Sunday lunchtime. Best eating venue: the Quayside within the Mowlem complex far exceeded expectations. Favourite accommodation: afraid I'm keeping that to myself as l want to be able to rebook in future years.
Just a quick thought about the varying degrees of comfort at some venues. Perhaps not all pubs are wise enough to both employ extra bar staff for these gigs as sometimes the wait for service was very tedious. Additionally some establishments do not clear floor space for the large numbers that attend and so superfluous furniture is taking up room and adding to the congestion. I am thinking in particular about the Grand Hotel and Crows Nest Inn.
I hope you are able to keep up the splendid work as we want to carry on enjoying this great event. So much so that we are contemplating moving to Swanage within the next couple of years! The festival is a great advert for the town.
RW said:
i came over on the Saturday afternoon went to the Legion and enjoyed the gigs that were on. Good to see some young people performing.
RB said:
All bands excellent 90%venues very good as we booked late the accommodation was very expensive £533(including food)for three days but will be there march2015 (Pines Hotel)
RH said:
Thanks for a great festival again. When we first visited I was talking a guy in the White Swan and mentioned that it was our first time. " Well I bet it won't be your last" he said . Never a truer word.
Now for a bit of feedback. This year we walked up to the Black Swan and caught Will Killeen. What an outstanding musician. Nice venue. Very friendly. Also a decent pint and excellent food. Apart from two good meals here it was fish and chips every night for our week in Swanage! (Fish Place)
So many good bands but the Robin Bibi jam sessions are a favourite. Just a shame that he was in my least favourite venue (Bar One) this time.
At one stage we sat outside The Ship listening to the band playing inside, looking out across the bay and thought that it doesn't get much better.
Best thing about the festival - wandering along the street hearing the sounds coming from the various pubs. Worst thing - the grip that Ringwood seem to have on the beers available. There are so many good breweries in Dorset it's a shame that they are not showcased at the festival.
Thanks once again.
KD said:
Just to say as good a do as ever. But have to add that Studland Old Harry Bar worked very very well as a venue and it did what you aimed for ie an evening long event where you could sit, see a couple of bands (both brilliant) get a drink easily. The place was full, but there was room for dancing and the atmosphere was very good.
NF said:
The Blues Duo must have been our favourite band this year. Amazing energy and very talented. They really need to be a in a bigger venue next time round. We've seen them three festivals on the trot and always in the tiny Sea Breeze. Good for the Sea Breeze as they fill the restaurant with paying customers, but the Duo could fill a big venue. Jawbreakers also excellent and Back Porch the best we've ever seen them. They have gone up a gear.
M&J said:
Another great weekend at Swanage Blues. We saw: Zoe Schwartz, Back Porch, Saiichi Sugiyama, Kevin Brown, some of Stan's Jamboree and Hugh and guests at the Finale. At that last gig, we were very impressed with Jeradine - a great voice, we could definitely hear more. We must also give a mention to the Buskers. We saw them on Sunday morning and they really encapsulated the spirit of the festival - wonderful entertainment with an excellent relationship with the audience ("If you stand too close, you get to be part of the band.")
We can't pick the best because they were all a bit different from each other and great quality. As far as venues go, we must give a mention to the Quayside. It's the first time we have been there for a gig and it was a really good space to enjoy not only the music but the best home made burger, fries, onion rings and salad in town. Also, although not a venue for music, another good place to eat is the Floribunda Tea Rooms A lovely atmosphere with good food and deserving of support.
In all, another wonderful festival that is over all too quickly. The finale at the Grand gets filled up way before the start - we got there at 6.00pm and were only just in time for a seat. Should a larger venue such as the Legion be considered?
KL said:
Thank you for organising the blues festival.
Johnny Sharpe and Martin Froud and Jenny of course are excellent hosts for the open mic at the Red Lion. Fine players and accompany the various players well. Great to sit outside and hear various styles. Just one point. Those artistes who are appearing in their own spot during the weekend should let others have the chance to play blues. Similarly with the Robin Bibi open mic. Give other players a chance please.
Steve Brookes is excellent and most enjoyable to hear him whilst enjoying a good meal at Tawnys. Paint It Blue and Hannah Robinson a wonderful voice and presence. Shame the group is breaking up but hopefully we will still hear Hannah. The Milk Men very good indeed. Would like to hear them again. Motel 6 excellent and the keyboard player in particular amazing. Blue Touch enjoyable. Lead singer great personality and brings a smile to all. Back Porch more of an acoustic style proving you don't need rock drums all the time for the beat. Very enjoyable.
Where are the fiddle and cello players? Good to have a contrast of instrumentation rather than lead guitar.
Bar One a poor venue. One cannot see the artistes and always crowded. Crows Nest most welcoming venue. Bill, Carol, Steph and rest of bar staff excellent hosts. Always wrist bands on sale. Always pleasant and afford a smile. Unfortunately too many venues are not so welcoming and staff need to be trained to smile. It's getting busier and pubs are too crowded. However I don't have an answer for this. Halls and marquees are impersonal.
J&G said:
Another fabulous Blues Festival thanks to your hard work and perseverance.
Our favourite venues are Quayside & the Grand where we can sit comfortably & enjoy good food. Back Porch are perfect at Quayside & obviously enjoy being there. Also we enjoyed Zoe's set & the whole of Stan's Jam & Show Bands, at the excellent Legion.
Made a point of seeing Northsyde this time but the White Horse venue was far too small & overcrowded & standing at the front we were only inches from the bass player and Lorna who were an hour late starting. The finale is too late for us as we have to get home for Monday work. An 8pm start would be better to see some of it.
We're so pleased that the wristbands sold enough& many thanks again for all you do.
P&A said:
The festival was fantastic again, as always – well done and thank you.
Favourite Bands – they are all very good and it really depends what style of music you're into or even what mood your in. However I must say the Milk Men were very good (as were the Mustangs) but the highlight was the Keith Thompson Band who were a first time viewing for us and they were excellent (and it's always nice to hear some new acts in amongst the established groups).
Favourite Venues – White Horse and Ship Inn are both good (White Horse allows you to see the band even when packed due to the raised stage, whereas in many venues the band gets lost when busy (nothing much you can do to prevent this in the confines of the pubs, although Grand Hotel could do much more re removing seating to increase visibility). We always stay at the Purbeck House Hotel and it's such a shame they can't be encouraged to host a gig in their conservatory room as they have a large space plus bar etc that would be great for one of the more popular groups.
Favourite Eating - we always have one evening meal at the Indian, mainly 'cos we like Indian food and not because the restaurant in Swanage is particularly good! Favourite Staying – per above, we always use the Purbeck House (we come down from Chesham, Bucks each year to attend) – a lot of festival goers stay there at the weekend and I notice it's not in your Accommodation section of the web site, so assume you can't strike up a rapport with them which is a shame.
I think you should ensure the bands and/or the bars promote the wrist-bands a bit more as a few first time folk were asking about paying etc.
DS said:
You asked for my Favourite Bands. The Mighty Jawbreakers - Pete Harris and his R&B Allstars featuring Jeradine - Kevin Brown for a different take on this music we love so much. Favourite Venues - The Red Lion for the Outside Open Mic Sessions,- The Crows Nest for Friday night's session - The Ship for the Sunday Aft session a real good time from the Jawbreakers.
Favourite eating places - the Italian Restaurant on Swanage High Street - The Fish and chip shop and Fish Bar on the High Street. The Fish Bar on the Quay for coffee and Crab Sandwiches.
Have Stayed at Amberlea and Amber Lodge for as long as i have been coming to the Festival which i think is about five or six years. Service and Accommodation is spot on.
Trust that's ok Steve, wish you well hope, to see you in March 2015.
JD said:
Mustangs, Riotous brothers. White horse, Red lion. Excellent!
BF said:
Another great festival, thanks for all your hard work, much appreciated. Best bands of the weekend, not necessarily in order of merit, were: The Keith Thompson Band; The Voodoo Sheiks; The RedCrow and of course Paint it Blue. Sad to see the last gig with Hannah Robinson fronting the band but really hope to see them next year with their new singer.
Favourite venue is definitely the Anchor, really friendly pub, thanks to Mandy for making us all so welcome and to The RedCrow for a great final gig of the weekend.
Best eatery was the White Swan, excellent food at reasonable prices. Thanks to the White Horse for a comfortable and convenient place to stay.
Finally a big thank you to Stan & Helen for the Blues Jamboree at the Legion, a great Saturday afternoon with some talented acts, particularly the Villanovas, hope to see them next year.
JV said:
We had a blast. I persuaded seven friends to join me and my wife for our first Blues festival and we stayed at Ulwell campsite which was superb. The facilities are terrific.
We catered our own food, but Sea Breeze fish 'n chips are great! We all loved the real ales everywhere we went. As to best bands. Robin Bibi has to be the best! We also thoroughly enjoyed: Blue Touch, Back Porch - just left you smiling, Pete Harris R & B Allstars at the Crows Nest, Kevin Brown Band with his wonderful humour and Pete Christie. We only saw Steve Brooks at the finale, but will get to him next time! Will Killeen was intriguing! Harmonica playing in Back Porch was awesome as was Hugh at the finale.
A very big thank you, Steve. See you next year!
PN said:
Bands. Actually they're all good. I'm sure different people have subtly different tastes. The best show for me is Blue Touch. Andrea transforms a terrific band into a top-notch entertainment. Other bands I really like are Paint It Blue, the Riotous Brothers, Robin Bibi, The Fezheads, The Mustangs, Hugh Budden's harmonica ... I could go on. This year we tried to see bands that we'd not seen before and apart from Zoe Schwarz and Pete Harris we failed. And the reason is in the next paragraph.
Venues. These days I've become as particular about the venues as I am about the bands. The White Horse and the Ship are the best venues. The Crows Nest is also pretty good (especially with Blue Touch there.) East Bar is OK. The Grand is good for the laid back stuff. We went Sunday afternoon to see Pete Harris and really enjoyed it. But it hasn't worked on most other times we've been there. I thought Zoe Schwarz deserved a better ambiance. The front rows taken up by huge chairs, few people and plenty of empty space, whilst much of the audience were seated far away, blocked by a pillar. They could put out lots of chairs and maybe small tables and move the armchairs out for the weekend. The Anchor, White Swan and Bar One are almost a no-go area for me. Just too little opportunity to see the band. An individual can sometimes worm his way in but for a party of people they're non-starters.
Eating: For me the best eating is from the fish and chip shops near sea – they should stay open later; but my wife would disagree. She prefers the Cauldron. We both like the Crows Nest.
Staying: If we travel en-masse with our friends we book an apartment. There's a really nice choice. For the two of us – like this time - we booked a B&B. Thanks for everything you do Steve, having organised small-scale events I can only imagine the headaches you have to overcome.
AG said:
Just wanted to thank you for a great festival last weekend - our first, but we look forward to returning! It was lovely to see Swanage alive with music and the town buzzing, such a great location. Highlights for us were Back Porch and Kevin Brown, superb! We happily bought wristbands and a programme in advance, but were disappointed to see so many people without either. Come on punters, £10 is an absolute bargain for a weekend of wall-to-wall music! Keep on doing what you're doing; many, many people really appreciate it, our thanks again.
J & GR said:
As a Swanage Blues Festival virgin I just wanted to say what a brilliant weekend my husband and I had. Great bands, beer and weather. We will definitely be booking again next year!
A & GD said:
Once again we thoroughly enjoyed the weekend and write to express our thanks to you for organising it again. It's a fabulous occasion which now seems to be a fixture in our calender each year. You really do bring a tremendous amount of cheer to everyone attending, probably as much for the performers as for us mere mortals who just listen and enjoy it all.
Naturally we enjoyed all the bands we saw, Back Porch, Blue Touch, Jawbreakers to mention a few who seem to lift the spirits where ever they play. Unfortunately didn't manage to catch Pete Harris this time around. We spent the whole of Saturday afternoon at the Legion enjoying Stan's Jam session and particularly Jools blues all stars, at least I think that's what they were called. A very impressive lineup.
Any way thanks again for another great festival.
IB said:
All good. I spent the time at the British Legion where Stan and Helen were organising as efficiently as ever. A good time with good bands and jammers.
BC said:
Thanks for keeping up the good work, I hope you realise it is really appreciated. There were some great performances.. I was mightily impressed by the Voodoo Sheiks and your description on them in the programme was pretty much spot on. Please invite them back for next Spring.
TH said
My first time in Swanage. Loved the blues festival, fantastic music / atmosphere / people. I will be back next year. Thank you.
PW said:
I got a fantastic place at the California Barn in swanage ,the accommodation was great and so peaceful , the room was lovely and bed was very comfortable , we looked out on fields with horses and gardens it was great for us , and Karen who runs it was lovely and friendly made our stay great , we had a fantastic time at the festival and saw as much as we could we met so many new people and listened to as many bands as we could get round to and they were all great , this was our first time here and it will defiantly not be our last we will defiantly be coming in march to the next one .
JA said:
Another excellent Blues Festival, very well done to all of the organisers, bands, and the hard working bar staff who kept the beers flowing. Until next year...
Russ Gannicott
Back from a wonderful weekend at Swanage Blues Festival. A huge 'thank you' to Steve Darrington for his dedication to this great twice yearly event. We had a fab time and I know the lads from The Blues Machine would concur - I don't think I've ever seen them enjoy themselves on stage so much! Not only that, they sold out of CDs!
Kevin Brown said:
Having returned from Swanage Blues Festival May I just thank not only Steve Darrington but the Landlords of the White Swan and the East bar in Swanage for agreeing to host my trio whom they had probably never heard of but yet took the risk. I was also treated to the luxury of having a sound man, roady, photographer and merchandiser for the first time in my long and dubious career, let me tell you it was wonderfull to not have to worry about any of those things so a big thank you to Steve Hill for his help over the weekend.
Blue Touch
So what a great Blues Festival in Swanage last weekend. SO much credit goes to the great organisation by Steve Darrington for putting on a marvelous event and the weather played its part too.
We had a great time and met friends old and new. Many people said they enjoyed the shows and so thank you to all of you including Pete who wrote: "Just to say I was at The Crow's Nest on Saturday and thoroughly enjoyed your set. What a performance from all of you - high energy blues - best show in town - easily! I'm still humming 'Trouble' - brilliant Andrea."
Hugh Budden
Swanage Blues Festival is over folks and I like many others have had an amazing time!! To be asked by festival organiser Steve Darrington to M/C the weekends events at The Grand Hotel is just a complete honor!! So where do we start..... Thursday at The Legion with Steve himself and the legendary Robert Hokum ( Bob Salmons) just wonderful!!! Friday at the Grand Hotel with Zoe Schwarz Blue Commotion, amazing!! Saturday afternoon with The Jawbreakers top quality fun and brilliant musicianship!! Saturday evening with Saiichi Sugiyama Band awsome!! Sunday afternoon with the Pete Harris R&B allstars astounding!! And for the Grand Finale Hugh Budden & The Blue Chords (Steve Faithful, Pete Harris, Robert Manley) and special guests Paul Redding Tracie that is, Paul Tasker, Steve Brookes, Ray Drury and Jeradine Philippa Hume, truly inspiring to sing and play with you, all of you. Also a big thanks to all of you who came and supported the festival and all the other guys and girls that were performing. But the biggest thanks goes to Steve Darrington for making it all happen, you were truly missed on Sunday evening!!
Leigh (The RedCrow)
Still buzzing from The Swanage Blues Festival weekend. Would like to thank Steve Darrington for organising this event and giving The Redcrow a chance to explore our Bluesier side to two hugely appreciative audiences on Saturday and Sunday nite. Also thanks to Stan and Helen Cockeram and Robin Bibi for two great jams, and the stage-time I had. Big shout to Romek Kriwald for stepping in on bass for Sunday night. And finally a big thanks to Herston Caravan and Camp Site and The Anchor Inn for the warm hospitality and welcome, and the most free drinks ever!
Robin Bibi
This was one of the best and most relaxed festivals ever for us ! Tuesday today and still recovering ... . More soon ! Our new drummer Dave Raeburn who's played with the Hoax, the Nimmo Brothers , King King, Larry Miller and DAnny Bryant to name but a few and has done virtually every other uk blues festival had never been to this festival before and said this was the best vibe he had seen at any UK blues festival .....!
Johnny Sharp (Open Mic)
Back home from an absolutely amazing weekend at Swanage Blues Festival. Great to jam alongside & meet up with so many old muso friends and watch some excellent bands.....we raised the roof!! A huge thanks to all the acts/bands who travelled down to perform at this years open mic sessions and made it such a successful weekend!!. See you all back in March 2015 for another unforgettable weekend
Pete Harris
What an awesome weekend at Swanage for the Pete Harris R&B All Stars! Three fantastic gigs, great crowds and lots of very positive comments. Thank you Steve Darrington for booking us once again, thanks also to everyone who came to the gigs, and thanks especially to my brilliant band members, Jeradine Hume, Ray Drury, Paul Tasker. Robert Manley and Steve Groves.
GL said:
Just to say thanks to you and all your team for the time and effort put in to make Swanage Blues Fest. a great music treat. It was the first time my friend and I have ever been to the festival and we were not disappointed. We stayed at the White Swan for 3 nights. The landlord & his staff made us very welcome, the food was first class, also the selection of wines & beers.
The music we heard & the bands we saw at the different venues were great [my favourites being The Blues Duo] The crowds of people were well behaved, with not a policeman or police car in sight, it was a great atmosphere. We made some friends and I bumped into an old work colleague who I hadn't seen for three years. Thanks again Steve for a great festival. Don't change a thing, booking up now for next October.
[Steve replied: Thank you for your comments. Glad you enjoyed the festival. I would like to thank all my team, but I can't because there isn't one – I do this all myself: dealing with the venues, booking the bands, organising accommodation, designing the website, the programme and all the posters, marketing, advertising and publicity. No wonder I get exhausted by the time the festival comes along! Right, got to go, organising the March 2015 blues festival already!]
DC said:
Great weekend. Enjoyed Zoe Schwarz, Back Porch and Kevin Brown. Quayside was a great venue - position and food. The venue at Durlston is a difficult one. We went out to see Kevin Brown on the Friday. Only 10 in the audience which dropped to 3 when our 4 and 3 others left after an hour and a half to go to other venues.
It would be helpful if the programme highlighted venues where you really need to eat to see the band. The Quayside is fine with room for diners and others. The one on the front near the tourist office (cannot remember the name) really does not have any room for non-diners. So we had to skip the Tommy Allen duo on the Saturday evening which was a shame.
[Steve says that this will be highlighted even more in the next festival programme]
DY said:
I came down early to see you, Robert Hokum and Hugh Budden at The Legion on the Thursday night. We found this to be one of the best venues and also saw Robin Bibi there. We had no trouble getting in or finding a seat. The acoustics seem to be a lot better than some of the pubs.
We stayed with friends who live in Ulwell as we have done for the past few years. I have also stayed at The Limes on a previous occasion. Being close to the Crows Nest we ate there on the Saturday night and usually tried to make it back there for a final drink. It's a shame that Bill, Carol & Steph are moving on. As in the past we ate at Chilled Red on the Friday evening but you really have to book early to get a table.
We particularly liked Blue Touch, Back Porch, Robin Bibi and Led Free but popped in and out of the town centre pubs listening to as many as possible. We always look forward to March and October in Swanage and thank you for all the effort you put in to make it the success it is. Well worth £10.
DB said:
Just wanted to congratulate you on yet another great festival weekend I just love them. Highlights from this one was Keith Thompson, Robin Bibi and a new act for me, The Blues Issue, who managed to get me to buy my first ever CD for ages. I really loved the laid back feeling to the whole festival. Looking forward to the next one. Keep up the good work.
HB said:
Really great festival this year, well done! There were some amazing acts - Paint it Blue, Riotous Brothers and new act this year The Blues Issue who played a scorching 2½ hour set. Keep up the great work! We have already booked accommodation for March. Looking forward to another brilliant Festival.
KW said:
Another great festival, looking forward to March already! Best venues: Grand, Anchor, Legion, East Bar, Red Lion marquee (more space to move around & get in and out main reason for these).
THURSDAY 2 OCTOBER 2014
8.30pm The Legion An Evening With Robert Hokum, Steve Darrington and Hugh Budden
FRIDAY 3 OCTOBER 2014
Please note all times are approximate and subject to change
2.00pm Red Lion Open Mic with Martin Froud & Johnny Sharp
5.00pm Bar One Robin Bibi Band
6.00pm Seventh Wave Kevin Brown Band
6.00pm Sea Breeze Lewis Cohen
6.00pm Tawny's Pete Christie
6.00pm Quayside Back Porch
8.00pm East Bar Riotous Brothers
8.15pm Sea Breeze Lewis Cohen
8.15pm Tawny's Pete Christie
8.15pm Seventh Wave Kevin Brown Band
8.15pm Quayside Back Porch
8.30pm Grand Hotel Zoe Schwarz Blues Commotion
8.45pm Black Swan Will Killeen
9.00pm White Swan The Jawbreakers
9.00pm Red Lion The Blues Duo
9.00pm The Legion Paint It Blue
9.00pm Crow's Nest Pete Harris R&B Allstars
9.00pm Herston Camping Motel 6
9.45pm White Horse The Milk Men
9.45pm Anchor Inn Riverside Blues Band
10.30pm Ship, Swanage Blues Machine
SATURDAY 4 OCTOBER 2014
Please note all times are approximate and subject to change
11.00am Railway Station Assorted Buskers
12.00am Quayside Back Porch
12.30pm East Bar Pete Harris R&B Allstars
1.00pm The Legion Stan's Blues Jamboree
1.00pm Corfe Legion The Blues Duo
2.00pm Bar One Jam Session with Robin Bibi Band
2.00pm Red Lion Open Mic with Martin Froud & Johnny Sharp
3.00pm Herston Camping Fabulous Fezheads
3.00pm White Swan Kevin Brown Band
3.00pm Grand Hotel The Jawbreakers
3.45pm Ship, Swanage Riotous Brothers
6.00pm Old Harry Bar Lewis Cohen
6.00pm Quayside Back Porch
6.00pm Tawny's Steve Brookes
6.00pm Seventh Wave Pete Christie
6.00pm Sea Breeze The Blues Duo
8.00pm Old Harry Bar Jason Manners & 3 Buck Shirt
8.00pm East Bar Blues Machine
8.15pm Sea Breeze The Blues Duo
8.15pm Seventh Wave Pete Christie
8.15pm Tawny's Steve Brookes
8.15pm Quayside Back Porch
8.30pm Grand Hotel Saiichi Sugiyama Band
8.45pm Black Swan Will Killeen
9.00pm Herston Camping The RedCrow
9.00pm White Swan Blues Issue
9.00pm Red Lion Fabulous Fezheads
9.00pm Crow's Nest Blue Touch
9.00pm The Legion Robin Bibi Band
9.45pm Anchor C Sharp Blues
9.45pm White Horse The Mustangs
10.30pm Ship, Swanage Keith Thompson Band
SUNDAY 5 OCTOBER 2014
Please note all times are approximate and subject to change
11.00am Railway Station Assorted Buskers
12.00pm East Bar Kevin Brown Band
1.00pm Bar One Back Porch
1.00pm Red Lion Open Mic with Martin Froud & Johnny Sharp
1.00pm Corfe Legion Jason Manners & 3 Buck Shirt
1.30pm Black Swan Will Killeen
3.00pm White Swan Blue Touch
3.00pm Anchor Voodoo Sheiks
3.00pm The Legion Jam Session with Robin Bibi Band
3.00pm Grand Hotel Pete Harris R&B Allstars
3.30pm Bar One The Blues Duo
4.00pm Ship, Swanage The Jawbreakers
5.30pm Crow's Nest Riverside Blues Band
6.00pm East Bar Keith Thompson Band
6.00pm White Horse Northsyde
8.30pm Grand Hotel Festival Finale – Hugh Budden & the Blue Chords with Jeradine, Pete Harris, Steve Brookes and Steve Darrington
10.30pm Ship, Swanage Led Free
10.30pm Anchor The RedCrow
The Festival Programme has a Map in the centre pages.
ACCESS - If you have any mobility or other problems or requirements, please check with the venues in advance.
* BOOKINGS - Sea Breeze, Seventh Wave and Tawny's Wine Bar are restaurants, so please book in advance. Quayside also takes bookings but is larger and may be more able to accommodate walk-ins on occasions. If in doubt, ring first.
MEMBERS - Non-members are welcome at Corfe Castle and Swanage Royal British Legion Clubs; also at the Old Harry Bar, Studland Social Club.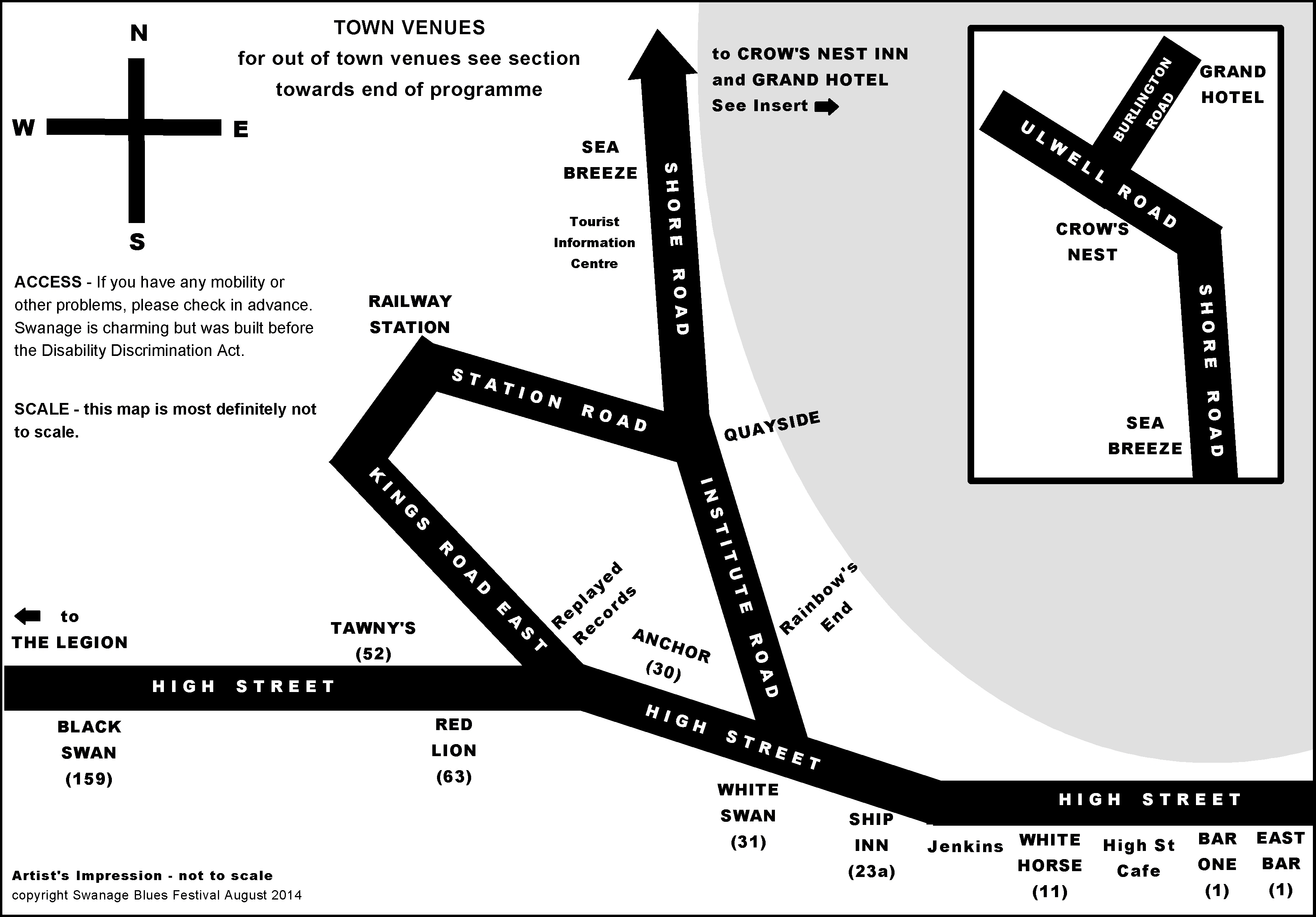 DIRECTIONS TO SWANAGE VENUES
Swanage High Street is a long road that starts by the pier and runs all the way out of town.
So, starting from the pier, the first venue is the East Bar (1 High St). then Bar One next door (also 1 High St). Carry on to the White Horse (11), Ship Inn (23a), White Swan (31), Anchor Inn (30), *Tawny's Wine Bar (52) and the Red Lion (63).
It's about another 300 yards to the Black Swan (159) and another 200 yards on to The Legion (150). That concludes the High Street.
The lower high street is connected to Station Road by Institute Road opposite the White Swan.
On the first floor of the Mowlem Theatre is the * Quayside Restaurant., where Station Road, Shore Road and Institute Road all converge.
From the Mowlem, go along Shore Road with the bay on your right and *Sea Breeze (7 Shore Rd) is on your left; keep on all the way along the bay and at Bull & Boat Bistro (non-venue) bear left up the hill to the Crow's Nest (11 Ulwell Rd). From the Crow's Nest, cross over into Burlington Rd for the Grand Hotel.
Herston Caravan & Camp Site is in Washpond Lane and best accessible via the High Street over the road from the Royal Oak (non-venue) at 417 High St.
*Seventh Wave restaurant is situated in Durlston Castle, Durlston Country Park about one mile from the High Street near the pier - follow the brown tourist signs; this is not an easy walk up the hill, so consider a taxi!
Corfe Castle Royal British Legion is in Corfe Castle and can be reached by road, bus or train. The last train comes back to Swanage around 4.pm on Saturday and Sunday usually (to be verified - always best to check yourself).
Old Harry Bar is at Studland Social Club, at the rear of Studland Village Hall, Heathgreen Road Studland BH19 3BU
ACCESS - If you have any mobility or other problems or requirements, please check with the venues in advance.
MEMBERS - Non-members are welcome at Corfe Castle and Swanage Royal British Legion Clubs; also at the Old Harry Bar, Studland Social Club..
* BOOKINGS - Sea Breeze, Seventh Wave and Tawny's Wine Bar are restaurants, so please book in advance. Quayside also takes bookings but is larger and may be more able to accommodate walk-ins on occasions. If in doubt, ring first.