2007 March
2, 3, 4 March 2007
Artists included: The Incredible Blues Puppies, The Barcodes, Robin Bibi Band, The Mustangs, Saiichi Sugiyama Band, Slim Lightfoot & The Backbones, Jon Walsb Blues Band, Storm Warning, Hightown Crows, John Crampton, Sonny Black, Hollow Bone, Nigel Bagge & Eddie Armer, Pete Smith with Chris Williams, Pete Harris and Jim Tigwell, Harris Budden & Osborne, and Steve Darrington.
Hello!
What a fantastic festival it was again this year! It's got to have been the best yet!
There were 17 different top-class acts in 11 different venues playing a tremendous mixture of electric, acoustic, urban and rural music with a blues flavour.
I sincerely trust you all enjoyed it, and I hope you'll all be back next year. There may be other events before then, so make sure you're on the mailing list.
Sorry I didn't get to meet all of you - I was very busy in the run-up to the festival and pretty exhausted by the time it started.
Still, a big thank you to the musicians, venues, bar staff, PA crew, and every one of you that made up the audiences, plus all the media for the free publicity.
An extra special vote of thanks goes to Elaine Williams of Small Planet Music, who helps programme the festival and did so much over the weekend to make it such a success.
Festival Organiser
Friends of the Festival write:
Steve Darrington was a touring musician all his life until ill health took him off the road.
He organises the festival without any grants or funding and pays for it all himself.
You can help keep it going with donations and advertising - please see here
REVIEWS
I guess that's why they call it the blues - by Andy Davey
(reproduced by kind permission of the Dorset Daily Echo)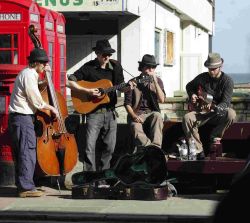 MUSIC fans from across the globe flocked to Swanage's seventh annual Blues Festival at the weekend.
Fans packed 11 venues across the seaside town, including pubs, bars and hotels, with landlords even suggesting they were busier than New Year's Eve.
The free festival, created and organised by local musician Steve Darrington, started on Saturday with a variety of acts, ranging from rockabilly to deep traditional blues.
Fans from Australia and Japan enjoyed a host of quality acts over the weekend, turning the town into a "blues Covent Garden".
"It was an absolutely roaring success," said Steve. "I thought last year was huge but this year was bigger. It's taken my breath away."
In recognition of its growing international reputation, a report on the opening night of the festival was broadcast on BBC South.
It is a far cry from the first festival event, which originated as a birthday party.
Steve, 57, who was disabled by polio as a child, is himself a musician. He has worked on more than 50 albums and played with a host of famous artists, including the Everly Brothers and Lonnie Donegan.
He started the festival when an accident cut short his touring career, but sadly due to the demands of organising the event, Steve was laid low with exhaustion for most of the weekend.
"I peaked too soon and missed my own party!" laughed Steve. "It's a function of the success of the festival that I was so in demand I was exhausted by the time it came around!"
Steve paid tribute to the work of Elaine Williams, of Small Planet Music, who stepped in to keep things running while he was out of action.
The three-day festival is completely free and relies on donations to keep it going.
COMMENTS
Tessa said:
"The atmosphere was great, Swanage at its friendly best and all thanks to your efforts Steve. So once again a huge 'Thank You' for being such a selfless soul and giving everyone such a wonderful time, but I'm still wondering how you managed to ever organise a celestial event for Saturday night!"
David plus 7 said:
"How much we enjoyed the event! It was really well organised, especially the web site. There are so many that have them as an afterthought, yours has everything you need! Thank you, and Small Planet Music... she was everywhere!"
Tara said:
"Steve! Congratulations on an amazing weekend, fabulous stuff - the town is buzzing and it is all down to you...well done"
Les Girls said:
"Wow, Steve what a fantastic weekend again, thank you so much, we girls had such a good time. This was my fourth year and each year the musicians, music and atmosphere is tremendous and just seems to get better, we were spoilt for choice! in fact we are booking another flat as well next year so that more friends can come!"
Mo said:
"Another superb festival. It gets better every year, many thanks for all your hard work. Will see you again next year, if not before"
Steve R said:
"It just gets better. So much music and so little time! I was very impressed that you managed to produce a Blue Moon on Saturday night as well. We'll definitely be making the trip down from the Midlands again next year"
James S, Northern Ireland said:
"Hey Steve, just wanted to say great fest, will hopefully make it over again next year again. Well worth all the travelling"
Chris G said:
"THANK YOU!! It was magnificent - unfortunately I saw a little less than last year, as the long trek to Rotterdam started at 1200 on Sunday"
PCSO John Marshall, Swanage Police said:
"It was a pleasure to see so many happy people of all ages enjoying themselves during both daytime and evening"
Sue D said:
"Hi Steve, Just had to drop a line to say what a wonderful festival it was. Our second year and hope to be at many more. Great to hear you playing in the Kings Bar on Saturday. Got the afternoon off to a great start. Keep up the fantastic work"
Bob L said:
"I thought the festival was brilliant. I particularly liked the multi-venue-free-entry format which encourages the visitor to roam and see many different performances"
Jim said:
"First time we've been to Swanage and we were impressed by all aspects of the town as well as the festival, we intend to return for more short breaks during the year, so you can forward this mail to your Town Council to show them how your festival promotes their area and ask them to assist with funding. Keep up the good work see you next year!"
Ginny said:
"Fantastic standard of musicianship, friendly relaxed atmosphere, good ale and an eclipse as well! Well worth a trip down from Bristol. Roll on March 2008! All your hard work much appreciated"
Steven G said:
"This year was the first time I had gone to the Swanage Blues Festival. I didn't know what to expect. What a great weekend, I relaxed and forgot the woes of everyday life; sat back and listened to some truly great music. What was really good during the evenings, was the fact that if you didn't like one particular band or artist or you just fancied something else you could move on to the next pub! There was no restriction - only the space inside each venue! This is what music is all about. Don't change a thing, I'll be back next year for more!"
TL said:
"Steve you're my hero! It was a great weekend, our 2nd Swanage Blues Festival, long may they continue. We just heard so much brilliant music"
Brian B said:
"Just to tell you that my wife, friends and I had a great time last weekend. We do appreciate the work it takes to organise such an event"
Cassie, Hereford said:
"Just wanted to say a big thank you to you for such a brilliant weekend. Last year 3 lads came to your Festival from Hereford and enjoyed it so much they spread the word. This year there was 8 of us came down for a long weekend. We all thoroughly enjoyed ourselves at the various gigs and want to say a big thank you for all the work you have put in to make it all work.
"Well done, we all appreciate how hard you must have worked. As someone else commented it brings a lot of trade to your beautiful Swanage at a quiet time of year, which suits all the music lovers as it enables us to enjoy the sightseeing at a quieter season and have brilliant music to boot!
"We enjoyed all the local bars and restaurants and took a jaunt on your Steam Train to Corfe and did a bit of shopping. A lovely morning sightseeing before a wonderful afternoon and evening of music. Thank you again, long may it continue. See you next year"
Rosemary said:
"Thought the music was great, and the atmosphere friendly and lively. Next year my friends and I will book an apartment for the whole of the weekend, so as not to miss anything. Even the weather (Fri) could not dampen the spirits!"
Simon said:
"Just to say thanks very much for another fantastic festival. I do appreciate the hard work you must be putting into it. It was great to see you playing at Kings Bar on Saturday. Sorry you were taken ill afterwards. I guess you were simply worn out with all the effort put in. I hope you recover fully soon. Well, it seems like you must have as you are planning next year's one already. That is great news! I will be there and intend to make sure all my friends will be too"
THANKS FOR ALL THE PUBLICITY TO
BBC South for their outside broadcast live from the festival featuring Sonny Black, Nigel Bagge & Eddie Armer, and Harris, Budden & Osborne. Great interview too with festival organiser Steve Darrington

BBC Southern Counties Radio and BBC Radio Solent for featuring The Mustangs live on air

Paul Jones for including the festival in his gig guide and for featuring four live tracks from The Barcodes on his Radio 2 show

The BBC for great coverage on their website here

The Dorset Echo and the Bournemouth Daily Echo for all their coverage

Blues In Britain magazine for a full page article in February

Blues Matters! and Blues In The South magazines for extensive coverage in recent issues

The Guardian for featuring the festival in their annual festival supplement in January
Comments from SWANAGE VIEW website
Friend of the Festival wrote…
"A Blues Covent Garden" the Advertiser said. Out of season on what would otherwise have been a quiet weekend in March.
The Swanage Blues Festival is BIG, with people coming from all over the UK and abroad, and the BBC, national newspapers and magazines recognising its importance with substantial coverage.
What I saw was a seaside town out of season, full of people who had flocked there to revel in a joyous festival atmosphere. Meanwhile the shops, pubs and restaurants, like the hotels and guesthouses, were taking a great deal of extra money. I know how much my wife and I spent, and we did not begrudge one penny. It was marvellous!
But did you know that for a year beforehand, Steve Darrington puts a huge amount of effort, time and his own benefit money into creating this annual success for Swanage? Sadly he overdid it this time and collapsed Saturday lunchtime, spending the rest of the weekend in bed, so he didn't even get to enjoy it himself.
Can you honestly say that he got your support? Did you put up a poster, make a donation or take out an advertisement on the website (for £12 a year, that's all he asks). He can't do it without you, you know.
You can still help. Steve's already launched himself into arrangements for next year, and he's got plans for other weekends. But he can only do it if you, the people of Swanage, offer your help, support or financial backing.
You can contact him via the website www.swanage-blues.org or phone him on 01929 422338. Don't he shy, he can't afford to be, and still make it happen again.
Lyn Fegan said...

Must add huge congratulations to Steve on the 2007 Blues Festival. Our hotel was completely full of people who'd come specifically for the Festival and they were all thrilled with the whole experience. So much so that some have already booked for next year. Steve must have some help for this event - it's now too big for one person to organise alone. All venues are free entry and the whole town buzzed, but the workload and financial commitment must be overwhelming. Hope he gets the support he deserves. Looking forward to March 2008

photo - Bob Long
Strata Artist's Way Creative Cluster said...
I have to say how amazed I am by Steve Darrington - his commitment and passion to music makes him work tirelessly all year to bring such a wonderful event to Swanage. In the past I like many other people in Swanage have let this one pass me by not really appreciating the nature of the event...but having met Steve this year and the realisation that what he was doing was quite incredible I ventured down to town and took myself on what I can only describe as a rare treat of entertainment for Swanage!
On Saturday afternoon I was enchanted watching a young band outside Dino's...three youngsters singing their own music in the sunlight...then there was a boy band who had a great deal of fun entertaining the audience. All afternoon there was a buzz about the town, people walking around with musical instruments…playing guitar on the beach. On Saturday evening I moved between The White Horse, Kings Bar and the Anchor...
The music was fantastic, the atmosphere wonderful, so many people having such a great evening and the musicianship was outstanding, such a high standard. This is an event I will be putting in my diary from now on and one that I will not miss! - Tara Dominick
S said...
Another great Swanage Blues Festival. Great atmosphere and great music. Good to hear Steve Darrington playing on Saturday lunchtime..... the Dorset Dr John!
Keep it up for next year.
Hugh said...
This was our first festival and it was absolutely fantastic. We will definitely be back next year. Steve and Elaine did a brilliant job in organising the festival. We particularly enjoyed the King's bar as the staging and room were just right for the Festival. Some of the pubs just got too crowded, and if the festival gets any bigger they will burst at the seams.
Swanage Council should provide a financial grant for the festival. It brings in a great deal of money for the hotels, pubs and restaurants in the town.
Again well done Steve you should be very proud of what you have achieved.
Chris Hillyer said...
This was my sixth year and Steve has once again worked a minor miracle
It was excellent and has to be good news for the town -felt it had quite a buzz about it on Sunday and visitors like me must spend around £100 each time -has to be good for the local economy
Will be there next year
Paul Luker (Purbeck Pub) said...
Steve, fantastic yet again. This weekend brings a huge amount to what is a dormant town this time of year. We were fully booked at the beginning of October last year, and continuing enquiries, including Saturday afternoon meant many recommendations to other places. Many, many thanks to John Crampton who again wowed us all with his amazing music, with a large percentage of people coming to watch both nights that he played, including a gentleman that flew from Scotland just to catch the Saturday gig!
It cannot be stressed enough what an important festival this is and what it brings this town, and as it continues to grow, so should support in all aspects of it. Steve, this is one place that will never underestimate the value of what you do and the work that goes into it! Long may it continue, and all hail the Blues Weekend!!
Bob From Bournemouth said...
My First Swanage Blues Festival. What can I say had a great time we will be back next year with some friends see you all again then
Anonymous said...
***** Top of the line music fest for everyone to enjoy only thing we need bigger pubs to fit more people in. I have been coming now for 5 years and it gets better every year. Thanks Steve you are the man.
Nichola said...
For me the highlight of the weekend was seeing HollowBone at the Anchor in the High Street. They made the whole weekend worth the journey - Simply Amazing energy from these two guys.
Bob Curry said...
Fourth time I've been and, as others have said, it seems to get better (and busier) every year. The town was humming over the weekend. The music was as varied as ever from hard blues rock to acoustic folky blues and there were some fantastic musicians. Given that it is all free I hope everybody dug deep in their pockets for the collection that was going around the Kings Bar. Thanks Steve for another great weekend
Vince and Viv said...
Amazing, Steve and Elaine have done it again, the best ever Swanage Blues festival!!! Busy..buzzing..pub bursting..brilliant..what a great and varied lineup of musical talent. We will be back next year, we wished we lived closer so that we could help you guys in Swanage.
Take care Steve and have a well deserved rest