2006 March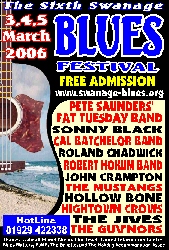 3, 4, 5 March 2006
by George Sandilands (courtesy of Blues In Britain)
Swanage is a delightful little seaside town that hosts a free blues festival every year, thanks to Steve Darrington. He used to be a touring musician, with a pedigree going back to the 60s playing piano and harmonica for visiting American bluesmen at the legendary Blues Loft, at the Nags Head, High Wycombe, before an accident took him off the road. "Now I get everybody to come to me!" he says.
This festival is unusual in that it is totally free and takes place in a number of small venues mostly within a few hundred yards of each other. Early on Friday evening I passed a group of people looking through the window of The Moonlight Bistro at Sonny Black & George Pearson playing to a full house and eased my way into The Red Lion next door for an incredible set by Hollow Bone. This new-to-the-scene duo consists of Yanu Zsigo on bass drum, hi-hat and assorted instruments, plus Damien Cheung, whose searing guitar complemented Yanu's heartfelt vocals perfectly through a set of original material. Having bought a CD I dragged myself across the road to The Anchor, where all Hell was breaking loose with The Hightown Crows, a wild trio of unconventional musicians who live locally but travel all over the world purveying their own inimitable blend of anarchic rockabilly.
Another few steps and I lingered in the doorway of The White Swan where The Jives, a harmonica and guitar duo from Essex, were playing some good old Chuck Berry numbers to another packed house, before retiring for the night. I could have gone on to see Roland Chadwick, John Crampton and Cal Batchelor's band from Canada but that's the beauty of this festival. Most of the acts are booked for two nights so you can pick 'n' mix your programme to suit your mood, and still get to see everybody.
On Saturday afternoon I wandered into The Kings Bar, a cavernous place that has been an indoor market, basket warehouse and snooker hall in former lives, for the afternoon session. The Jives had opened and were followed by a solo Sonny Black. Ragtime, jazz standards, all sorts flowed effortlessly and the enraptured crowd of 300 were so quiet you could have heard a plectrum drop.
Roland Chadwick took to the stage with a wild mane of hair and a mandolin, his Australian charisma and charm aglow, before treating us to some excellent guitar work and enthusiastic vocals. An un-named harmonica player at one point joined him but had amplification problems that took the edge off his performance. But when John Crampton arrived we were treated to the unmistakable sound of his Steel National, stomp box and wailing harmonica, all going like one of the steam trains that have been lovingly restored at Swanage station. He must be one of the finest blues solo acts on the British blues scene.
Hollow Bone were amazing, the hit of the festival. Yanu's soulful voice and towering stage presence, even while seated at that bass drum and hi-hat, would have not been out of place at a Revivalist meeting. In fact, if he'd asked us to shout 'Hallelujah', we'd have done it. The crowd truly loved them as they took us through the most amazing gamut of emotions invoked by their autobiographical material. It is totally compelling and Damien's guitar is a joy in itself. I am reminded of early Blue Horizon recordings - we will hear a lot more of Hollow Bone, they deserve to be seen by much bigger audiences.
Cal Batchelor dates back to the sixties when he came to Britain from Canada and formed the original Quiver before they amalgamated with Sutherland Brothers, then going on to play with a whole host of names including Ronnie Lane and Eric Clapton. He headlined at Colne last August and here he was demonstrating why with his power trio. He was followed by Bluesmaster Robert Hokum's band. with its sparse drums, bass and keyboards set-up taking us through dynamic versions of old Muddy Waters and Howlin' Wolf tunes. Back to the roots indeed and always a pleasure.
A short break and then on with the start of the evening already, as Bob returned with another six guys to present The Guv'nors funk blues extravaganza. I'm not a fan of funk but I stayed for a lot of this, drawn by the tightness, energy and crowd feel.
I finished the evening by catching the end of The Mustangs at The White Horse, where it was totally packed to capacity and really rocking, hugely appreciated by a larger (this time) contingent of young people. That's one thing I noticed about the weekend, the wide age range of enthusiastic punters.
Sunday afternoon I had to head for home but just managed to catch the opening first few numbers of Pete Saunders' Fat Tuesday Band in The Kings Bar. Well, it wasn't Tuesday and they weren't fat, but they sure played that Mardi Gras music well. The combination of Pete's growling vocals and Dr John piano, plus Simon Charterton's excellent percussion and Amy Baldwin's double bass make for an excellent trio. On this occasion they were joined by ex-Jools Holland Orchestra's Barbara Snow on trumpet, and well-known jazz saxophonist Clare Hirst, to create something that sounded like Cannonball Adderley's quintet having fun in New Orleans.
All in all, this was an incredibly enjoyable weekend in a lovely part of the world. The b&b was excellent and cheap, and the festival was genuinely free – free admission, free programme, free prize draw, even a free poster if you wanted one. Sure, the collection came round occasionally for us to contribute to Steve's expenses, but we did so gladly. It is amazing that he manages to achieve so much without any financial backing. I'll be back next year.
Oh, and I managed to get hold of a copy of the sign that was making everybody smile: "NO UNAUTHORISED HARMONICAS" - intended to discourage a harpbreaker who is inclined to join in all and sundry uninvited in whatever key he has to hand. With incisive Dorset humour, he is known to the locals as 'Blind Lips'.
Customers Write:
"Many thanks for a great festival. It gets better and better."
"Excellent weekend again Steve and many thanks. Already booked in for next year at the guest house."
"As we all spent loads of dosh that Swanage would NOT otherwise have benefited from, I am keen to contribute and remind the good burgers of Swanage how they benefit and should support you more. My feedback to you is that I enjoyed it loads and intend to be there every year. Congrats on all you do."
INCREASED TRADE
Alison Stockley, Manager of Swanage Tourism, said:
"The Blues Festival increased visitor numbers tremendously. This year on the 4th March we had over 650 visitors to the tourist information centre... comparable to a busy day in August"
"Just had to drop you a line to say a big thank you for bringing so much talent to Swanage at the weekend. Saturday afternoon and evening at the Kings Bar will be something to remember for a long time."
"This is just a quick note to say a BIG THANK YOU for one of the best weekends I've ever had (and I've had a few, believe me.) The Blues festival was FANTASTIC. I only found out about it by accident on the Wednesday before. I was looking on John Crampton's website and saw he was playing Swanage. I have done the Jazz festival many times in the past, but didn't know anything about the Blues festival. Would you please send me details of the next one as soon as they are available. Once again, many thanks for all your hard work. From one VERY HAPPY blues/rocker."
"Just to say a big thanks to you and your team for a great Blues Festival in Swanage. This year was the fourth festival that I have attended and it is certainly becoming more and more popular. I was in the Kings Bar on Saturday and the place was heaving. The music was superb - was particularly impressed by John Crampton, Cal Batchelor and Hollow Bone. I shall be back next year. Keep up the Good work! live in Sidcup but have family and friends in Swanage."
"Yes it was an excellent weekend, great music, I can't get over how that drummer in the Hightown Crows used a suitcase for his bass drum, then afterwards packed all his other gear into it. Also how he appeared to be playing his knee at some stage. Only downside was the smoke, all our clothes stank afterwards, we'll look forward to the first smoke-free Swanage Blues Festival, that's for sure."
"I just wanted to say a big thank you for organising yet another successful event. I only managed to take in a few of the acts on the Saturday night but thoroughly enjoyed what I heard and saw. Special mention for both Roland Chadwick and The Mustangs. Totally different but equally entertaining. Keep up the good work and once again many thanks."
"Thanks for a great weekend. Heard about festival via the internet - just happened to decide to go to Swanage this weekend and saw it when I was trying to find some accommodation. Been to Swanage loads of times my father was born there and I used to go there for my family summer hols when I was about 3-8 years old."
"Thanks for organising another great festival. Will certainly be back again next year. Cheers."
"Thanks for another magic Swanage Blues Festival. We liked everything we heard but really really went for Sonny Black and, best of all, Hollow Bone, who were a HUGE surprise and equally amazing at both of the venues we caught. Surely these guys deserve to be HUGE. Thanks for another magnificent effort. We love you!!"

"Steve - thanks for organising another great festival, we really enjoyed ourselves again. Your hard work much appreciated."

"Just wanted to thank you for organising another successful very much enjoyed blues festival. I normally stay in a B&B for the Fri & Sat, but decided to make more of a family thing and booked a holiday flat so I could stay for the Sunday, pleased I did Pete Saunders was well worth it. For me I think the highlight was Hollow Bone, those two lads have a future, stumbled upon them on the Friday couldn't drag myself to move on. Exceptional. Thanks again, looking forward to next year already."

"Thanks for a great weekend. All the family had a great time. The Saturday afternoon session worked brilliantly as we had three children with us. Spent four hours locked in the bar drinking beer and listening to excellent live music. Favourite acts were Hollow Bone (my 13 year old son was blown away by their coolness!) and Roland Chadwick who was a phenomenal musician, maybe a bit too folky for the blues but hey, we're folk fans! Thanks again for a great weekend."

"Just a quick word to thank you and your team for putting on a great weekend which I, and my good lady, thoroughly enjoyed. This is the 1st one that we have come down specifically for, although we did catch part of last years by chance, and it was well worth it! Our particular favourite was John Crampton, with Hollow Bone and The Guv'nors being superb as well! Have you thought about compiling a sample CD of the artists who performed at this years festival? I'm sure it would appeal to enthusiasts on your mailing list as well as being a useful promotional tool for future events! Once again, many thanks and keep up the good work!"

"Steve, just a quick note to say thanks for all the strenuous efforts that you and your partner made in putting together a fantastic festival! None of the acts that we saw disappointed and Swanage is a great town. I think we'll be back next year…"

"My friends and I were at the festival this weekend. We will definitely be coming back next year- it was great, so thanks for all your hard work. We are excited about having another festival to add to our calendars! My folks live in Swanage so although I live in Birmingham I keep an ear out for what's going on in the area. Please add me to the mailing list though."

BLUES FESTIVAL

'LIKE NEW YEAR'S EVE'

by Andy Davey

(with thanks to the Dorset Daily Echo)

THE organiser of the sixth Swanage Blues Festival is celebrating after hailing the event a huge success.

Hundreds of people flocked to the town from March 3 to 5 for the event, which has become a Mecca for music enthusiasts and blues artists across the world.

Creator Steve Darrington, 56, from Shore Road, was a touring musician until an accident forced him to retire and said this year's event was "bigger and bigger and better and better" than in previous years.

He added: "Most of the musicians told me it was one of the best weekends they've had in their lives and they all want to come back next year.

"The punters told me that they couldn't believe how wonderful the atmosphere was all weekend. There was an absolute magic and a tremendous sense of camaraderie.

"The participating venues, which were pubs and restaurants, all reported that it was like New Year's Eve, which is what I set out to do on a weekend out of season when they would otherwise have been virtually empty.

"This is my way of saying thank you to Swanage."

Elaine Williams, who runs the agency Small Planet Music, said: "Steve organised the most wonderful weekend of top class music that brought joy to hundreds of people.

"It is even more amazing when you know that he does it single handed, from a wheelchair, with no grants, funding or anything like that to support him."
"Thank you very much indeed for a terrific line-up this year. We enjoyed Roland Chadwick on Friday evening at the Crows Nest, and the whole Saturday evening at the Red Lion with The Jives - a terrific performance by two great, approachable guys. Their live CD was worth buying too. Sonny Black on Saturday afternoon at the Kings Bar was wonderful, and the only disappointment of the weekend that we had was in not being allowed to sit in at the Moonlight Bistro to listen to him on Saturday evening due, apparently, to the licensing laws. His CD, 'The Blue Way', is essential listening, and accompanied me on the long, long drive to Rotterdam at 4 o'clock on Monday morning! The festival just gets better and better!! Many, many thanks"

Further comments from public forum Swanage View (reproduced below)
"What a great weekend. Good to see the town and venues, (what there are of them), so full of people this early in the season. With a superb choice of acts, (top of my list was Sonny Black at the Moonlight Bistro), this event goes from strength to strength."
"Just to say it was a great Blues Weekend in Swanage. All bands had something different to offer. Memories include Hollow Bone's stories and cool guitar; the Robert Hokum band impromptu "Blues Rap"; excellent Chish & Fips and good beer. Thanks to all the organisers and hope to be back next year!"
"This year was the fourth festival that I have attended the Blues Festival and it is certainly becoming more and more popular. I was in the Kings Bar on Saturday and the place was heaving & rocking. The music was superb - was particularly impressed by John Crampton, Cal Batchelor and Hollow Bone. Also lots of great beer. Loads of thanks to Steve and his team for organising the festival and for all their hard work. Keep up the good work! Shall be back next year."
"Once again I had a really good time. Excellent, well organised festival with a great atmosphere. Steve really ought to get some kind of award from the town for the work that he puts in to organise this. Swanage is really nice, but i would not have thought of coming to visit if it were not for the festival. The first time that we came there were just two of us. This year we brought a party of fourteen!"
"2006 - My 1st Swanage Blues Fest - could only get to the Saturday with a mate but had a brill time - can't wait for the next one. Plan to come for the weekend in 2007. Great music, great location and all offered free!!! Congrats to Steve and team for putting it all together and a big thanks to all the musicians. 'Boogie on down'"
"We had a super weekend at Swanage. 2nd festival for my husband and I and we brought some friends with us this year. The music was great, the venues small and crowded on Sat night but who cares - we managed to get in - and our evening meal at the Moonlight Bistro with Sonny Black playing was beautiful. Swanage had some good small town shops on offer too; All in all a magic weekend. We came away raving about Hollow Bone for the spontaneity of their live sets. Yanu has a great voice and Damien plays magic blues guitar. Together, they create something really special. All thanks to wonderful Steve and his helpers for another great one."
"A big thank you to Steve and Elaine for putting on such a fabulous array of blues music. This was our first visit and we've already booked at The White Horse for next year! Swanage is a lovely place and everywhere we went we were made welcome. What a crying shame that the Town Council do not sponsor this event, we could have some headlining acts like they have at Upton on Severn or Gloucester. Many people visit the Upton Festival, and the local councils all chip in to pay for bigger bands. Last year for instance, we had Mike Sanchez and his band. Well done Steve,you put on a fantastic event on a shoestring! You deserve a lot more help with the finances for this event. Long may it continue!"
"Thanks Steve for organising such a great event, and for all the local people and landlords who make this event possible, and of course many thanks to the musicians.. KEEP MUSIC LIVE. we have been to swanage before but this was our first blues festival, we will be back, of that i am sure. i wont choose a best band, they were all excellent, but i do love the immigrant son song, it still haunts me now...REAL BLUES. what a great weekend see you all next year."
"We travelled down from Hertfordshire for the festival and what a great weekend of music it was. How fortunate is Swanage to have someone like Steve Darrington who can draw so many people to the area (and out of season) with their wallets open and ready to spend on anything and everything. Not to mention how lucrative it must have been for all the pubs and restaurants in the area - surely a real 'out of season' bonus. We'll be there next year for sure."

"What a great blues weekend and really good intimate venues, with such a good vibe and friendly atmosphere. For a free festival the acts were superb and varied. This was our second Swanage Blues Fest and I can see its going to be on our list. Worth a trip from Portsmouth just to listen to Sonny Black at the Moonlight Bistro. Well done to all the organisers."

"What a great event. Swanage was bouncing on Saturday night and when The Mustangs launched into their final song everyone in The White Horse really believed that they were "Born to be Wild"! If only the council would give as much to Steve Darrington as he gives to the town."

"Many thanks for a great festival. It gets better and better. Keep on truckin"

ROBERT HOKUM WRITES:

"From myself and the other guys in The Guv'nors / Robert Hokum Blues Band. Thanks to Steve, Elaine, Purbeck Music, The Kings Bar and to all the punters for giving us such a great gig on the Saturday. Without promoters prepared to put in the time and effort to gigs, us musicians are nothing and so 'maximum respect' to Steve Darrington for his commitment to the Festival. Some of you will be aware that I work with my local Council on the Ealing Blues Party and I find it incredible that Swanage Council haven't woken up to the potential that this Festival has for bringing business to the town out of season. Here's to the next one!" - Robert Hokum
"Excellent weekend, and very friendly atmosphere. Personally it was a joy to be invited to jam in on harmonica with the talented Jives on Saturday night, and also to "have another go" later with the frighteningly good Hollow Bone in their storming after-midnight session in the Anchor. (Again I apologise for calling the band by their album name by mistake! - probably due to a delayed reaction to earlier real ale(s) in the Kings bar! See you next year, and I'll try to get the guys from my French band (the Spitting Llamas) and/or my Leek band (Jackrabbit Sugar Shakers) to come down too. Thanks again." - Mark Goodacre (aka Mr G or "Pitch Black")
"thanks steve for wonderfull weekend,ihave only lived in swanage for eight months but this was certanly the highlight and cant wait to see such superb bands again next year ,i only hope the local council give you more support.it was well organised and put together so carry on the good work."
"We brought our own accommodation - a caravan - and had a great weekend! The highlight for me was our meal at the Moonlight Bistro on Saturday; excellent food, good service, and such an intimate atmosphere with Sonny Black's magical guitar. Next year's dates are already on our calendar."
"The Mustangs - awesome - they should be superstars!"
"We also went to the Moonlight Bistro and enjoyed an excellent evening, great food, great music. Only down side is I couldn't catch all the bands. Never seen a town rock quite like that one did on Saturday night, can't wait for next year."
"it was my first swanage blues festival,but i will be back, what a great week-end,Steve done a great job,the amount of people and trade it must bring to Swanage they should get more help from the council,over the whole week-end all i saw was smiling faces! Amazing week-end thanks to everyone involved !"
"We agree with most of the comments posted by everyone else. Swanage was amazing again! We don't really agree that Swanage Blues would be better with more headliners. One of its strengths is that it gives full opportunity to new and developing talent like Hollow Bone (who were great) and such acts would likely be the one's squeezed out at a more "star-studded" event. Not to say that the Swanage Council shouldn't give Steve Darrington some financial support - they should - but please keep the event fresh and friendly so that there is room for new talent and for returning favourites like Cal."

"Only our second year to the Blues Fest, but third time to Swanage, having returned in July last year. We love the place, the folks are friendly, the ale is certainly fine, oh yeah, and the bands were not bad either ;-) Must say a big thanks to Steve & Elaine for all their hard work to produce an excellent weekend - yet again - and I'm sure next year will be better still. Thanks too to all the bands for some excellent entertainment, special thanks to Bob H & the Boys."

SONNY BLACK writes:

"Ever since I started playing guitar I have met such nice people, played in amazing places and heard wonderful music from other players... all of which happened again at Swanage. I am very lucky and privileged to know Steve Darrington and Elaine Williams to whom thank you... to the Moonlight Bistro and all who were there Friday and Saturday thank you too."
"First time at the Blues Fest for us - and we loved it! We - a group of 20-somethings - came down from, Manchester, Birmingham and Plymouth especially and we weren't disappointed! Lovely weather, good ales - and some superb music. We will definitely be coming again. Thanks for all your efforts Steve! Some pics posted at www.flickr.com/photos/gibson - in the "Swanage Blues Fest" set. See you all at Blues on the Farm, Chichester, in June!"
"Steve, Steve, Steve. With diversions it was a 500 mile round trip for us Broadstairs Boys but worth every traffic jam.. We had never been to Swanage before but we're coming back and will definately be there for 2007... Roland Chadwick (Guitar)& Nigel Feist (Harmonica) have to be booked for 2007 as they tore the Kings Bar up on saturday afternoon.. Sonny Black was a quiet giant of a man with talent of equal proportion... We rolled into town, found the newly opened Auberge Bunkhouse to stay in and had ourselves a fantastic weekend!!! Our apologies for taking a while to get used to the fact most people in Swanage say hello and smile, we'll try and bring the custom back to Kent !!!"
SCHEDULE

VENUE

FRIDAY EVENING

SATURDAY EVENING

White Horse 11 High St

Cal Batchelor Band

The Mustangs

Purbeck Hotel 19 High St

John Crampton

Roland Chadwick

White Swan The Square

The Jives

Cal Batchelor Band

Anchor Inn 30 High St

The Hightown Crows

Hollow Bone

Red Lion 63 High St

Hollow Bone

The Jives

Moonlight Bistro 67 High St

Sonny Black

Sonny Black

Crows Nest 11 Ulwell Rd

Roland Chadwick

John Crampton

Kings Bar 2-4 Kings Rd East

-

The Guv'nors (7.30)

SATURDAY AFTERNOON 12 noon - 6pm

The Kings Bar 2 -4 Kings Rd East

12.30 The Jives * 1.15 Sonny Black * 2.00 Roland Chadwick

2.45 John Crampton * 3.30 Hollow Bone * 4.15 Cal Batchelor Band

5.00 Robert Hokum Band

SUNDAY AFTERNOON 12 noon - 5pm

The Kings Bar 2 -4 Kings Rd East

1pm The Hightown Crows * 2.30pm Pete Saunders' Fat Tuesday Band

Free Admission to All Venues