2005 March
4, 5, 6 March 2005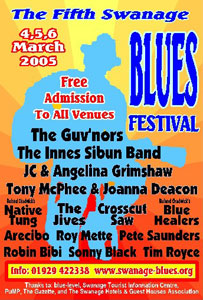 Well, there we go... another fantastic festival with a brilliant line-up, another wealth of anecdotes, wallet full of phone numbers (no money, but loads of phone numbers!), friendships formed and relationships renewed. Thanks to all the performers, landlords, PA company, helpers and everybody who made the weekend such a success.
The best rumour was that the whole thing was paid for by the council!
Oh, if only that were true... in fact, it's all organised by little old me, with the venues paying for the artists, and contributions from the public hopefully covering most of my costs. Apart from sending money, here's where you can help.
I'm looking for Your Stories about the Festival and Your Photographs. So budding journalists, photographers, reviewers, stand-up comedians or whatever, here's your chance to shine! Please send your contributions to memories@swanage-blues.org
You might even see your work on the website!
Best Wishes,
You can click on the acts' names to take you to their websites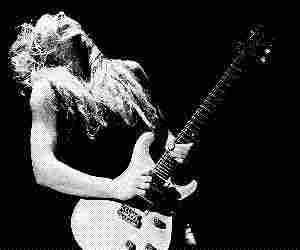 The Innes Sibun Band
Sunday Afternoon - Kings Bar
Guitar virtuoso Innes Sibun and his all-rocking band deliver an electrifying mix of melodic rock and blues. Innes is recognised as a world-class guitarist who has extensive international tours and TV performances to his credit, including a three year stint with Robert Plant.
"The man who blew away 12 other guitarists on the Peter Green 'Night of the Guitar'"
Saturday Evening - White Swan
The former leader of world-famous band 'The Groundhogs' celebrates his first new album in 10 years, with singer Joanna Deacon. Tony has played with John Lee Hooker, Little Walter, Memphis Slim, Jimmy Reed and Champion Jack Dupree.
"Tony was one of my early influences" – Eric Clapton
Saturday Evening - Crows Nest
See what happens if you put together drummer Barriemore Barlow (ex-Jethro Tull, Robert Plant, Jimmy Page), bassist Phil Saatchi (singer, songwriter, atmosphere and dance music) and Australian classical composer and guitar supremo Roland Chadwick. Be prepared to be unprepared…
"Beautifully crafted original blues, exquisitely played"
Friday Evening - Crows Nest
Saturday Evening - Purbeck Hotel
Angelina and her brother JC have developed their sound throughout their 20s drawing inspiration from acoustic roots, jazz, folk and blues. From Russia, Japan, the USA to working with Dr John, Buddy Guy and Van Morrison – they've taken it all in their stride. Now, at last, Swanage!
"JC's a superb songwriter and instrumentalist. Angelina? Memphis Minnie and Bessie Smith without the scratches!"
Friday Evening - Purbeck Hotel
One of Australia's more bizarre exports (and that includes the duck-billed platypus), Roland Chadwick knows no musical boundaries and has a huge classical reputation as well as being a top jazz and blues guitarist. His partner Graham Pike has a solid rep as a musical director and theatre & TV producer.
"Sod the CVs, this Mississippi Delta blues guitar and harp duo will knock your socks off"
Friday Evening - White Horse
Saturday Afternoon - Kings Bar
Led by Bluesmaster Robert Hokum on guitar and vocals, this seven piece outfit plays the blues with psychedelic funk, acid jazz and Latin grooves. Every year they headline the Ealing Festival's summer party in the park to audiences in excess of 20,000.
"Prepare yourself for a raucous set, whipping the audience to a dancing frenzy"
Saturday Evening - Anchor Inn
Pete Saunders (ex-Dexy's Midnight Runners and The Damned) is an amazing keyboard virtuoso and singer. He is engaging, energetic, enthusiastic and entertaining with a varied range of pace and style.
"Pete combines Dr John, Professor Longhair, Alan Toussaint and the Meters in a musical niche where blues meets funk meets jazz. The music of street carnivals."
Friday Evening - Moonlight Bistro (early start 7.30pm)
Robin is a charismatic and versatile performer who has been sideman to Robert Plant, Jimmy Page and Ben E King. Blues, funk, soul, rock, reggae and jazz are all rolled together into a vibrant and varied performance.
"Charismatic, versatile and entertaining, a great guitarist and talented vocalist who sings from the heart!"
Friday Evening - White Swan
Saturday Afternoon - Kings Bar
Saturday Evening - Black Swan
Sunday Afternoon - Kings Bar
Tim Royce, guitar and vocals, stormed the Swanage Blues Festival last year, receiving rave reviews in national magazines and on the radio. He is a firm favourite on the London blues scene, and is a performer of the highest calibre. He is joined by double bass player Rob Millis (and harp woman Vick Piper where permitted) for what Blues In Britain magazine calls:
"Very fine blues, ragtime and slide… fretboard wizardry of the very highest quality"
Friday Evening - Red Lion
A guitarist, singer and songwriter, Roy exploded out of the Thames Delta Blues Scene during the 1970s. Whether solo acoustic or electric, Roy's playing covers a multitude of styles. From powerhouse workouts through soft bluesy ballads and folky things, Roy stretches out musically, probing areas where Blues and British Folk Tradition meet.
"Consummate entertainer, brilliant performer, back by popular demand"
Friday Evening - Anchor Inn
Smooth and powerful blues from Tacoma Narrows (guitar, vocals), Zoot Templeman (bass, vocals) and Reid Coltrane (drums). Augmented by Hugh Budden, the Producers' old harmonica player, they play original material and standards. A variety of guitars, airtight bass, solid drums and brilliant harmonica make for a great evening.
"A slick polished act galvanised by excellent harp"
Sonny Black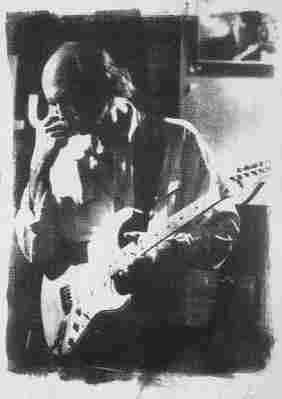 Saturday Evening - Moonlight Bistro (early start 7.30pm)
Sonny Black is a singer and guitarist who takes the blues from the Delta to the borders of jazz and back again. His album 'Heart and Soul' received huge coverage on Jazz FM, Radio 2 and many other stations. Voted Best Blues Guitarist of the Year by the readers of Blues In Britain magazine.
"He possesses that quality called Blues Soul"
Friday Evening - Black Swan
Saturday Evening - Red Lion
Brilliant guitar and harmonica duo featuring Jeff Chapman, ex-Wilco Johnson sideman and frontman for The Roosters, and Al E Bye from R&B band AM5. Together they offer a compelling mix of R&B ranging from Little Walter's harp style to the more rocky side of Chuck Berry.
"Classic material and excellent musicians, these guys start off with the energy most bands aspire to at the end!"
Saturday Evening - White Horse
Hendrix, Cream, Free, Clapton, The Stones, Gary Moore, Rory Gallagher, Stevie Ray Vaughan, The Groundhogs and Dr Feelgood are just some of the influences you'll detect in the music of this hard working rock and blues band.
"Definitely the pot of gold at the blues end of the Rock Rainbow. Get ready to party… HARD"