2002 March
The Second Swanage Blues Weekend
1, 2 and 3 March 2002
SPECIAL THANKS go to our Advertisers and Jon Sibthorpe and the Purbeck Gazette for sponsoring the Festival Programme.
Festival A Great Success! - by John Edwards
(from Blues In Britain magazine)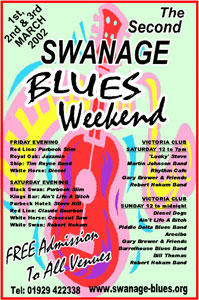 This delightful Dorset seaside town played host to 18 acts in 10 venues, and admission was totally free throughout the weekend. Arriving on Friday evening, I managed to catch just two of the four pub events: the local duo, Purbeck Slim & BB Rian held court in The Red Lion almost as a tribute to 'Big Bill Broonzy meets BB King' – a fascinating combination of vocal and guitar artistry, with a deep-rooted understanding of the blues, and highly entertaining to boot.
At The Ship, The Tim Royce Band from London played to a packed crowd from 18 to 80 years old, with Tim slashing away on his battered Telecaster and vocals, ably assisted by Reg Edwards on double bass, Vicky Piper harmonica and Gary Foot on drums. Plenty of interesting original material sat side by side with the Rolling Stones' "Dead Flowers", "On The Road Again" and a wild version of "Crossroads".
The starting point for Saturday was The Victoria Club, where the walls are lined with cabinets containing original 60's 'American Folk Festival' posters, autographed pictures and other blues and rock memorabilia. This venue, with its old vaults, warm ambience and excellent sound system, opened to a packed house at 1pm.
On piano and vocals was 'Lucky' Steve, who entertained us to a mixture of barrelhouse, boogie, blues standards and some great original songs, not to mention his humour, which had several ladies rushing to the powder room to repair their make-up!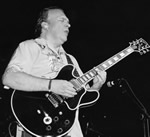 Next up was Ealing's Robert Hokum Band and now the crowd was rocking to the excellent slide guitar and power vocals of 'The Bluesmaster' with Graham Wright on bass and Tim Strange on drums. Great versions of "Baby Please Don't Go" and "This Is Hip" brought back memories of the excellent 60's albums "Chicago The Blues Today".
Martin Johnson and friends took us on a nostalgic trip around 60's British Blues, which had one lady from the audience re-living her youth clasped to singer Martin's thigh… twice! Notable performances here from Mickey on lead guitar, 'Lucky' Steve on piano, Geoff Wellstead sax and 'Doey' (who also did a brilliant job providing the PA for the weekend) on bass.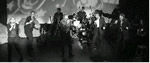 Rhythm Café provided a different slant on the blues, with swinging versions of "Hit The Road Jack" and "Summertime". Excellent vocals from Abna Churchill (also great harp) and Amanda Atkins, Steve Gun on bass, Frankie Rudd guitar, Joe Atkins drums, Chris Rand sax, Tim Marcus keyboards and Joe Atkins drums.
Finally, London's Gary Brewer and the GB's took us through to 7 pm with an excellent display of gut-wrenching guitar, screaming organ, pounding bass and drums, and some of the most expressive vocals and facial expressions of the weekend.
Saturday evening's sessions were held in 7 of the High Street pubs, 6 of which were virtually next door to each other, so I commenced my mini 'blues crawl' at The Purbeck Hotel where Steve Hill from Stroud was in fine form. His influences are Piedmont/Ragtime finger pickers combined with melodic traditions, and he provided a nice gentle start to the evening.
On to The White Horse where Crosscut Saw were playing a blistering set, which sounded like early Clapton joins Dr Feelgood from outside (one of the largest venues but so packed I couldn't get in), The White Swan where The Robert Hokum Band were continuing their successes of the afternoon, The Anchor where Basket Case were presenting a kind of 'Genesis meets Pink Floyd to play The Blues' concept, and finally to rest at The Red Lion to see Claude Bourbon. "The Frog with The Happy Blues" is how he bills himself – ça va? – but there is no doubt that he is one of the most accomplished and inventive finger pickers I have ever seen, with good vocals too. Robert Johnson's "Steady Rolling Man", Pink Anderson's "How To Stretch It", and the original "Howling At My Door" all provided insistent cross-rhythms and an intensity of performance, which held us spellbound and provided a perfect end to the evening.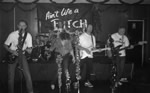 Sunday lunchtime and the final session was scheduled until midnight in The Victoria Club – and it was still all free! We weren't even hassled with a collection jar for the artists, so we all dug deep for the raffle instead. Diesel Dogs, a Hampshire-Avon band, started off moodily with some laid back Santana-like originals, "After Midnight" and "Angry Southern Man", moving into Ain't Life A Bitch playing classic soul-blues favourites, "Black Magic Woman", "Messin' With The Kid" and "Can I Get A Witness", featuring some stunning sax from Helen England, which raised the temperature to hot! hot! hot! before Purbeck Slim & The Piddle Delta Blues Band took the stage.
This set 'Slim' was accompanied by BB Rian, 'Lucky' Steve on piano, harp & vocals, Willie Bath (ex-Lux De Lux) on bass, Laurie on drums and some excellent diva blues vocals from Weymouth's Angie Mac. The sound was unashamedly Muddy Waters big band, and the crowd revelled in it all, pressure of time being the only reason they had to stop.
Arecibo (remember Bishopstock?) followed and provided an intricate, smooth and powerful set featuring Tacoma Narrows (guitar/vocals), Zoot Templeman (bass/vocals), Reid Coltrane (drums) and their latest addition Hugh Budden (ex-Producers) on superb electric harp. Original material and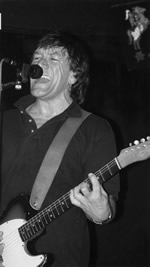 standards like "Little Red Rooster" featuring lap steel, and a superb tour de force from Hugh Budden dancing round the audience with his radio microphone, had the crowd standing on seats.
The stage was set for another excellent set from Gary Brewer, with Malcolm Hoskins, Toby Baron and Andy Cooper, before Barrelhouse Blues Band took us on an amazing journey with their new look bigger band, venturing into Miles Davis territory at times. Finally they were joined by Johnny Mars, harp player extraordinaire, who finished off the weekend with his usual display of excellent harp and authentic vocals.
Overall the weekend was a great success with many of the pubs being 'drunk dry' and borrowing barrels of beer from out of town. This was only the Second Swanage Blues Weekend – roll on the Third!