Wristbands
The 28th Swanage Blues Festival is on 5, 6, 7, 8 October 2017
60 Great Gigs, 30 Top Bands, 15 Indoor Venues - all for a £10 Support Wristband!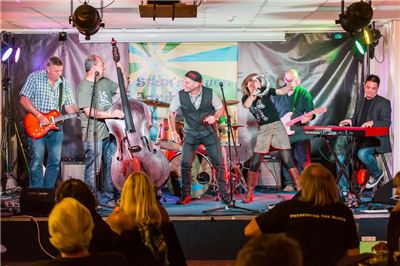 WAYS TO BUY WRISTBANDS AND PROGRAMMES Online, Post, In Swanage
IMPORTANT:
Click on the Down Arrow at the end of the line for a full menu.
Order each item and then click on CONTINUE SHOPPING on the PayPal page. (If it does not appear, go Back on your Browser to return to the Shopping List again).
(UPDATE Some web browsers seem to have included Pop Up Blocker as Default in their updates.)
GOODS ORDERED ONLINE DESPATCH
Despatch will be at the beginning of September or earlier if possible.
ORDER BY POST: your order must arrive in Swanage before 23 September 2017
Send name, address and quantity of each required to:
Swanage Blues, c/o T I C, Shore Road, Swanage, Dorset BH19 1LB
together with a cheque made payable to 'Blues Roots'.
Pre-orders will be despatched will be at the beginning of September or earlier if possible, later orders within two days of receipt of cheque.
Support Wristband, Programme and P&P combined: £14.50
Additional Support Wristband add £10
Additional Programme add £2
Programme Only: £4.50 includes P&P
ON SALE FROM MID-SEPTEMBER 2017 AT
Tourist Information Centre, Shore Road, Swanage
Jenkins Newsagents, High Street (till 10pm every day during Festival)
Replayed Records, Daisy May's Arcade, Kings Rd East (till 5pm every day)
Swanage Post Office and other retailers
AND FROM VENUES DURING FESTIVAL
Swanage Blues is a trading name of Blues Roots
Blues Roots is a company limited by guarantee registered in England 7270783.
Registered Office: Herston Cross House, 230 High Street, Swanage, Dorset BH19 2PQ